Keeping your eyes beautiful is an art and knowing how to do perfect eye makeup is essential. There is an old saying that eyes are the mirror of our soul, which is very much true. Eyes are the windows of our emotions. A lot can be said from the expression of our eyes. For many decades poets and authors have been inspired by beautiful eyes.
For a long time, women have used various techniques for accentuating the beauty of their eyes. Of course, the methods have changed from time to time, but the love for making our eyes beautiful has never faded out.
So let's talk about today's trend for eye makeup; there are so many techniques, trends and products for eye makeup that many times we get confused, what to use and what not to use. And when we make up our mind on what products to use, we go hassled on how to use them. Well, not to worry, as a beginner, we all goof up now and then doing our eye makeup, but with these simple and easy eye makeup tips and tricks, you will be all sorted out.
There are thousands of eye makeup like palettes, primers, colours, kajal, liners, mascara, blending, and whatnot. But the million-dollar question is where to begin and how to begin? The key to perfect eye makeup is the correct knowledge. So here I listed some of the best eye makeup tips and ideas on how to do eye makeup for you to get dazzled.
Eye makeup tips and how to apply eyeshadow
1. Know your eye shape.
For getting the perfect eye makeup, it is crucial to know your eye shape to learn different techniques according to the shape of your eyes.
2. Use a primer.
It is your key to successful eye makeup. Primer solves your half of the problem example–fading eyeshadow, creased lids, oily lids. To avoid such problems, never skip on your primer. It helps your eyeshadow to stay in place and also gives you the exact colour of your palette.
Tip: If you don't have a primer or don't want to invest in one, you can always go for a concealer. Ensure your concealer has a very thick consistency.
3. Blend to perfection.
Practice makes a man perfect; this saying applies to our eye makeup also. Blending eyeshadow will make your eye makeup look seamless.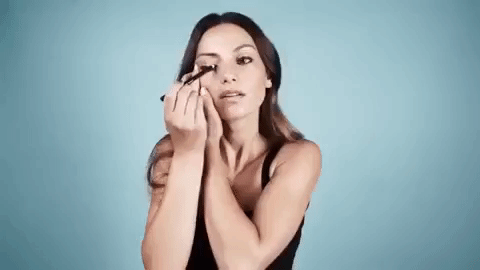 Tip: Avoid using those spongy applicators that come with those new palettes. Invest in some good quality brushes.
4. Use white eyeshadow.
If you want to make your applied eyeshadow look vibrant, do not skip the base. Instead, use a white colour eyeshadow at the base. It will help in making your eyeshadow colour pop up and give you excellent results.
5. Learn the types of eyeshadows.
There are mainly three types of eyeshadows – cream eyeshadow, pressed eye shadow and loose eyeshadow.
Cream shadows are best made for base or solid coverage. Pressed shadows are the most used eyeshadow types. The most common reason is that they are easy to use and blend easily without any mess. Finally, loose shadows are the most pigmented types. But they are a bit messy to work with.
6. Work some magic with a white pencil.
We all have some palettes which are not so much pigmented, and these kinds of shadows tend to fade out when we apply them to our lids. To avoid this, there's a simple trick. Use a white matte colour pencil, and apply it along with your lash line. Now thicken the line. After that, you can use your favourite eyeshadow over your white liner. You will see how vibrant your eyeshadow has appeared.
7. Know that your eyebrows give your eyes an instant lift.
Besides our eyes, our eyebrows are a prominent feature of our face, and if you have groomed your eyebrows, it will enhance your eyes. So make sure you define your eyebrows well to look your eyes beautiful.
8. Avoid disturbing fallout.
We all hate the shadow fallout while working on our eyes. It gets annoying, but it's not such a big problem to worry about if you know the solution. The best way to keep fallout at bay is doing your eye makeup first and then the rest of your face. This way, you will be able to clean all the mess up.
Dos and don'ts of eye makeup
The abovementioned techniques are some of the simple yet valuable tips and tricks for your eye makeup. These tips and tricks will indeed work wonders in achieving those perfect done eyes. We have talked about some tips and tricks to help you with some eye makeup basic dos and don'ts.
1.Do not compromise on the right tool and brush.
No matter what, never compromise on the right designed brush for the correct application.
2. Use a pencil for that perfect look.
We are all beginners at one point or the other, so the trick to a flawless look is to use a pencil liner to draw a line and then blend it out with small strokes. This will help you in getting your desired look.
3. Choose the suitable types of colours to shade and shape up your eyes.
Nude colours are best for highlighting your brow bone. Light colours work well for your lids. Dark colours are suitable for your crease. And smokey or darkest colours are best to create smoky eyes or to work on your outer corners.
4. Clean your makeup brush and tools regularly.
To keep your skin dirt-free, always remember to keep your makeup brushes and tools clean. Every time you use your brushes, clean them as soon as you can. To clean the brushes, use a baby wash or baby shampoo, clean the brushes gently, and let them air dry. Keep your brushes and makeup tools in a clean and dry place to avoid any dirt or mites entering them.
Eye makeup brushes you need
Here are the eye makeup brushes and their uses:
Basic fluff brush
This eye makeup brush is used for giving defined and results.
Angled brush
This eye makeup brush is used for spreading eye shadow on your entire lids.
Smudge brush
This eye makeup brush is used for a smoky look and blending dark shadows.
Pencil brush
This eye makeup brush is used for highlighting or placing pop up colour.
Crease brush
This eye makeup brush is used for adding depth.
Flat liner brush
This eye makeup brush is used for lining the eyes.
Blending brush
This eye makeup brush is used for blending the eye shadows for a smoother look.
Slanted liner brush
This eye makeup brush is used for defining brows.
Spoolie brush
This eye makeup brush is used for smoothening brows.
Bent liner brush
This eye makeup brush is used for tightlining the lash line.
Mascara comb
This eye makeup brush is used to brush and groom your brows.
These are some of the best tips, tricks and basics of eye makeup to help you achieve your desired eye makeup with that professional look.