No… not that ice!
Many of us are tired of hearing about ice after the brutally freezing weather, sleet, and snow that gripped most of the nation this week.
You can add "Icemageddon," "Snowpocalypse," and "School Closings" to my list of words and phrases I never want to hear again.
Going on day four in pyjamas and slippers, it was hard to find inspiration for a Fashion & Beauty post.
However, after spending several hours configuring my eprint machine, I bounded outdoors for some much-needed air and inspiration hot me. Ice. Lots of ice. Aha – diamonds!
My calendar confirmed that it is the month of February – the month of love. Well, the month with a day of love anyway.
Love laced with consumerism. And obligation.
For on Valentine's Day Eve, many a well-intended male will venture out in search of one, two, or all three tokens in the holy trinity to appease, er, show affection for his lady.
The holy trinity, consisting, of course, of gifts in the flora, candy, or jewellery categories.
And, despite his best intentions, he will invariably get it wrong.
Not wanting to appear ungrateful, most of the gift receivers will smile and fawn over the presentation.
Big mistake, ladies.
Have you ever given a gift to a man that he didn't like? What happened?
He took it back and probably asked you for a receipt before the ribbon was even untied.
Yet, we continue to fake it, which only encourages repeat offences.
Men are creatures of habit.
Tell him you adored those chocolate-covered cherries that made you break out in hives and guess what you're getting next year? Yup. Chocolate-covered cherries.
And don't get me started on the pretentious red roses that proliferate every corner shop and retail counter.
Heck, you can probably buy a dozen roses at the gas station on Valentine's Day morning. Original.
You see, what irks us the most isn't intentions, right? It's execution.
It takes just as much effort to pay for those roses or chocolates, alongside every other guy buying exactly the same thing, as it does to pick out a few stems of our actual favourite flower.
And don't buy us candy if you don't want us to scarf it down and then complain about how fat we are for the rest of the day. Is that your idea of romantic?
But, I digress.
It's one thing to smile and nod for a maligned confection or foul flora; they are dead or thrown away in a week's time.
It's quite another to have to wear a despised gift day in and day out.
After all, roughly ten per cent of the more than 2 million couples who get engaged every year in the United States do it on Valentine's Day.
And while some, I'm sure, are surprise proposals, let's face it… most of them saw it comin'.
Maybe it was the official common-law status or daddy's shot gun, but I bet most women aren't too surprised when their men pop the question.
So, why is it that after what one assumes are at least several hours of quality time together, many men don't have the foggiest idea what kind of diamond their women would prefer?
Have they ever seen our other jewellery?
Don't they know that outdated heirlooms can be reset? 
Now, gents. I know this can come off as a little Kanye, but stay with me.
You wouldn't want to spend all of that money on something your woman can't stand.
It is, after all, a symbol of your love and commitment.
And besides, she is the one who has to wear it for the rest of her life.
She should at least have some say in style. Right?
But, ladies. It's hard.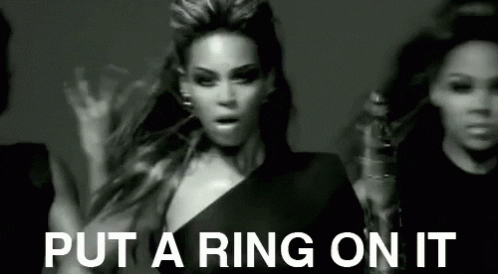 We don't want to come off too demanding or assuming.
So, here's your answer. Lots of sites have "Find Your Ring Style" quizzes or articles.
Now, just print and circle your precious with a silver paint pen, doodle little cupids shooting arrows through heart-shaped clouds with both of your initials on it, stamp the link to your fave local jewellery boutique and staple the Google Maps directions.
Then leave it in a conspicuous place.
Like the garage, the fridge or his porn stash.
He's sure to get the point.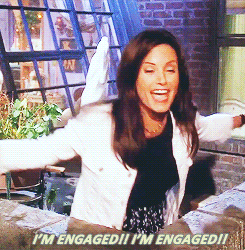 And if not, well, you'll always have his birthday, Father's Day and an Ed Hardy necktie.
Good luck, dolls.
And remember.
The left hand isn't the only one you can put a ring on. Ask Michelle Obama