I have lost my first five pounds! How about you—how much have you lost? Even if it's just a little, it's still something. We have to celebrate the little victories because all of them together will bring us to our final goal.
Today, I'd like to share a few weight loss tips that have helped me find success. You've probably heard some of these before, but they are worth hearing again because they are small, easy things you can do that will have a big impact on your weight loss endeavors.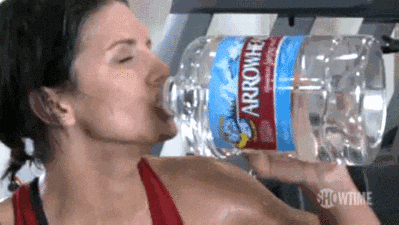 1. Drink more water.
I'm sure you've heard this one before, but that's because it's true. Oftentimes, we think we're hungry when we're actually just thirsty. If you start to feel hungry, try having a glass of water and then wait ten or fifteen minutes. If you're still hungry, then have something to eat.
The best water bottle EVER. Photo courtesy of camelbak.com.
The best thing you can do is drink water constantly throughout the day. Always have a water bottle with you, and drink from it often. I highly recommend CamelBak's Eddy water bottle. If you're like me and you have an oral fixation that causes you to snack constantly or bite your nails, this water bottle is perfect for you. In order to drink from it, you have to bite the spout and then suck the water up through a straw.
Instead of constantly eating or biting my nails, I just constantly chew on my water bottle and sip water. It's perfect for sitting through classes or meetings, watching TV, and surfing the internet because it prevents mindless snacking by keeping your hands and mouth busy, plus it quells hunger by providing your body with the water it needs!
The Camel Bak is only about $15, is very durable and spill-proof, available at all major sporting goods stores, and best of all, it's dishwasher safe!
2. Satisfy your sweet tooth smartly.
Yes, it can be done. Whenever you're craving something sweet or sour, try having a piece of fruit instead of candy. Although both contain sugar, fruit contains natural sugar, while candy has processed sugar. Fruit also contains fiber, is naturally low in fat, and provides our bodies with a lot of essential vitamins.
Special K Chocolately Delight cereal is a great option for satisfying your chocolate cravings. Photo courtesy of specialk.com.
If it's chocolate that you crave, be smart about what kind of chocolate you eat and how much. Chocolate contains antioxidants that are good for us, but we only need about 1 ½ ounce of it to get the full benefits of the antioxidants. Chocolate also contains a lot of sugar and fat, so it should always be eaten in moderation. If you're craving chocolate, try a glass of chocolate milk, a bowl of Special K Chocolatey Delight cereal, or a granola bar that contains chocolate (I like the Fiber One 90-calorie chocolate granola bars, but there are tons of different brands and varieties).
You can combine both chocolate and fruit by dipping fruit, such as strawberries and bananas, in melted chocolate. Yum!
3. Set smalls goals in addition to your ultimate weight loss goal.
When I began my weight loss journey, my ultimate goal was (and still is) to lose thirty-five pounds. That's quite a bit, and it's obviously going to take me some time to get there. Looking at the progress I've made so far (a loss of five pounds), it doesn't seem like I've lost much compared to the total I want to lose. While that may be true, I did make progress because I achieved my first weight loss mini goal: to lose five pounds. I was so happy when I reached that goal; I didn't even think about my overall goal.
I encourage you to set small mini-goals that you will be able to achieve in a few weeks or a month. That way, you will have small successes you can celebrate along the way to achieving your ultimate goal. You won't feel as if you've accomplished much if you're weighing yourself every week, seeing you lost a few pounds, and then comparing it to your overall goal of losing twenty, thirty, or even fifty pounds. Remember: celebrate the small successes—they're leading up to the big one!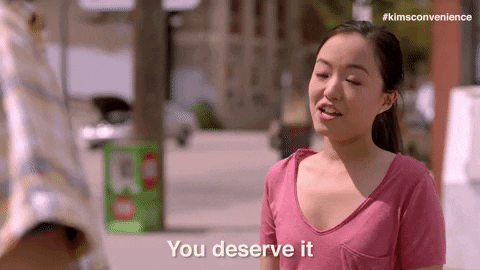 4. Reward your successes—without food.
When you reach one of your mini-goals, you should definitely award yourself for the great work you've done. However, I don't mean reward yourself by going to a restaurant and pigging out or by getting a Big Mac, or anything like that. Reward yourself with something that isn't food. Get a new pair of shoes or a new shirt. Buy a new nail polish, a new video game, a new DVD, or a book. Get a massage or a manicure. Maybe you'd like some new accessories, or you've been eyeing something for a while, and you haven't yet had a reason to buy it. Buy it now as a reward to yourself for all the hard work you've done.
If you reward yourself with something every time you reach a mini-goal, it will give you the motivation to keep losing and keep reaching those goals. You can make the reward bigger with the more progress you make as well. Losing weight is hard, and you're doing it—reward yourself for your awesomeness!
5. Get support, and use it often.
Losing weight is difficult, and we all need help along the way. Hey, that's why I'm here! Having a few friends or family members to help us through the tough times is very helpful. Having someone to diet and exercise with is great but is not always a possibility. If you don't have a diet buddy, just ask a person close to you if you can lean on them while you achieve your weight loss goals. They will be more than happy to help.
You can also join online forums or use this very blog! You can always comment on these posts or e-mail me for support. I'm right there with you through this, and I know how tough it can be!
And don't forget to celebrate your achievements with your support buddy (or buddies), too! When I stepped on the scale this past Sunday and saw that I had reached my five-pound mini-goal, I was very excited and proud. However, hearing my boyfriend Micah says, "Good job, Hon. I'm so proud of you!" made me feel even better. Having a friend there to celebrate your success makes you feel even better about your accomplishments.
I hope you find these tips as helpful as I do. Happy losing!