Growing up, we were always told to brush our teeth at least twice a day. To others, it's thrice a day because they brush their teeth after every meal. But the thing is, there were no specifics. And many of you don't know just how long to wait to brush your teeth after eating.
So, how long should you wait to brush your teeth after a meal? Regardless of whether you ate something acidic or not, you should generally wait for at least 30 minutes. This ensures that the teeth fully neutralize the pH level, dental plaque, and bacteria on your enamel, and brushing your teeth won't cause any damage.
Just like every other body part, the body takes quite some time to do its bodily functions. There'sHowever, there's so much more to brushing than just putting toothpaste on your toothbrush. Read on to know more about good habits in brushing.
Why Wait 30 Minutes to Brush Your Teeth after Eating
Do you brush your teeth after eating, especially if you're constantly talking to people? Naturally, you want to smell and feel great without feeling conscious about anything. There's nothing worse than having an unpleasant breath when you have lots of appointments, right?
Some of the food you eat contains sugar and acidic ingredients that cause bacteria to form in your mouth and affect your teeth – specifically your tooth enamel. At this point, your teeth are weakened by all these actions, and it's prone to damage.
Waiting for 30 minutes seems like a long time. But it's necessary to avoid breaking down the exterior of your teeth. This is something that you should keep in mind, especially if you love oranges and grapefruits.
During this waiting period, the pH, dental plaque, and bacteria on your enamel are being neutralized so that it's not damaging to brush your teeth. If you want to brush your teeth, you should do it before eating anything acidic and wash away those acids with water after eating.
So, if you're thinking of brushing as soon as you finish eating, think twice and remember that your teeth need some care, too. It's probably best to use water to wash away a little of the smell and wait until the 30-minute mark has been hit.
Good Brushing Habits
Good brushing habits go a long way. It's not about having good breath all the time. It's also about having that perfect smile and making sure you're not going to wake up to a toothache in the middle of the night. So, always brush your teeth after eating.
By now, you probably have habits that may or may not have been working in your favor. But, regardless of whether or not they're working, it's always good to know what habits are great for you.
Here are some excellent brushing habits you can use:
Replace toothbrushes every three to four months. The best way to keep your mouth clean is to make sure that your toothbrush is also clean. Ideally, you should change your toothbrush every three to four months or when you notice that the bristles are already broken.
Use a soft-bristled brush. Soft-Bristle brushes don't hurt as much as hard-bristles do. These soft bristles also won't damage your teeth and wear down its exterior. Other than that, soft-bristles even reach hard-to-reach areas easier than hard-bristles.
Choose the right-sized brush. There are just so many kinds of toothbrushes in the market that you might not notice you're using the wrong size. Having just the right size will make it easier to reach and brush your molars at the back.
Use the appropriate toothpaste. If you have any condition, it's best to ask your dentist what kind of toothpaste will work best for you. In general, fluoride toothpaste will be the best one for you. There are already different kinds of toothpaste available to treat various conditions.
Brush in circular motions. You might be brushing your teeth the wrong way. It's easier to remove the food stuck in your gums when you use circular motions. This motion can also make sure that you don't create gaps between your teeth and gums to make more space for bits of food to get stuck in.
Brush for two minutes. Some people brush their teeth quite quickly, which is not good. It's recommended that you brush your teeth for at least two minutes, giving each part of your teeth a good 30 seconds of brushing. Reach into the far areas and brush away.
Floss at least once a day. Brushing isn't the only thing you can do to remove food stuck between your teeth. Flossing should be a part of your routine because it removes plaque in areas your toothbrush can't reach. Floss gently and curve the floss against your teeth.
Use a pea-sized amount of toothpaste. Adults should use a pea-sized amount of toothpaste whenever they brush their teeth. More than that is unnecessary, and less than that isn't enough. Using enough toothpaste makes sure that you're cleaning your mouth just enough.
Include your tongue. Most of the time, people are just so focused on cleaning their teeth that they forget that the tongue is part of the mouth. Brushing your tongue makes a difference in keeping your breath fresh. Be sure to brush that one.
Developing good habits to brush your teeth after eating goes a long way in keeping your mouth clean, your teeth healthy, and your breath fresh. Remember that these habits help you ensure that you won't be having any problems in the future and you'll have clean and healthy teeth.
Things to Avoid for Healthy Teeth
Just like what we've said, you've probably developed habits that may not be the right kind. When you want a clean, healthy, and fresh mouth, there are also a couple of things you should avoid doing. It's not always about the brushing techniques, but also what you put in your mouth.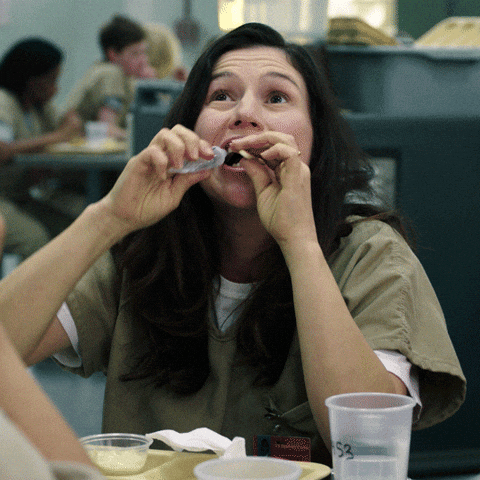 Here are some of the things you should not do or, at least, avoid doing:
Brushing too hard. Do not brush your teeth after eating too hard. This is because it won't be as productive as you want it to be. It's best to use soft but firm strokes without hurting your gums. Brushing too hard will do more harm to your teeth' enamel than good.
Drinking water after brushing. We get it. You brush your teeth after eating everytime. But do you drink water after brushing? Drinking water washes away the protection left by your toothpaste. The toothpaste leaves a fluoride coating that will offer hours of protection when you're not eating. So if you want to drink water, do it before you brush your teeth.
Rushing your routine. In the previous section, we said that you should brush your teeth for at least two minutes. Regardless of how much toothpaste you use, you shouldn't rush your routine and ensure that you brush every quadrant in your mouth.
Brushing just once a day. Okay, you might say that you're fasting and only eat for a couple of hours. But it's so important to know that your mouth spurs bacteria that need to be cleaned at least twice a day. Remember to brush twice a day without fail to avoid having future mouth problems.
Eating too much sugar or acid. These are the two types of food that can cause bacteria to spur in your mouth. If you want to avoid damaging your teeth, cut down on sugar and acid, and follow a balanced diet. This isn't just for your teeth but also your overall health.
These are just some of the things you can avoid doing to help keep your mouth squeaky clean. Developing good habits is one thing, but avoiding doing bad ones is another. It's all about making sure you're doing the right things and that your mouth is healthy.
Conclusion
While it's essential to know just how long to wait to brush your teeth after eating, it's also important to follow good habits and avoid the bad ones. Keeping your mouth clean is more than just brushing your teeth, and good habits will help you protect your teeth.