Most people starting a workout program want to know the best way to gain muscle. The thing is, you can ask five different so-called experts and get five contrasting answers. But there are some basic premises to follow in your quest for the best way to create muscle-building for beginners, whether you're a woman or not. And in this article, we will cover some of them. 
Now, we cannot possibly cover everything in the scope of this post, but we will attempt to cover the basics at least to start your workout program safely.
The first thing you want to do before you begin any fitness program is to make sure you have a physician's blessing to do so. So, bottom line, consult with a qualified medical professional to be sure that you are ready to begin your muscle-building program.
Warm-Up and Stretching
Once you are cleared, you will want to begin with proper warm-up exercises and stretching. Now there is considerable debate about which one to do first. However, the general belief among experts is that the warm-up should be done before the stretch. The thinking is that it is not healthy to try and stretch a cold muscle, which makes a lot of sense.
Weight Training Exercises
Now, as for the weight training exercises for your muscle-building program, there are some things you need to know before beginning. So we are now going to reveal in a series of steps the best way to gain muscle.
First of all, you need to "walk before you can run". In other words, start with just the basic foundational exercises for each body part. Then once you are up to speed and need more diversification, you can switch to other variations. But for starters, stick to one exercise per body part.
On these weight training exercises, you will have the option of using either a barbell or a pair of dumbbells. The one advantage of using dumbbells is that they offer a more excellent range of motion, a much better stretch and more different moves.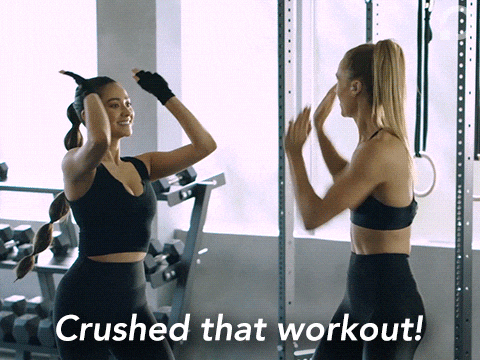 However, some people choose to start with the barbell because it seems more straightforward in the beginning. They then progress to dumbbells once they are used to the exercises.
Okay, for beginners, we recommend one exercise per body part. And those body parts are as follows: chest (pecs), back (lats), trapezius (traps), shoulders (delts), biceps (bi's), triceps (tri's), thighs (quads) and calves. And when first starting, do three sets of 8-12 reps with 1 to 2 minutes rest between the sets.
So here are the beginner weight training exercises recommended.
Chest
For this one, you will lie prone and flat on a weight lifting bench. You will use either a barbell or a dumbbell; it's your choice. If using the barbell, when bringing it off the rack, you will lock your arms out.
Then lower the weight while inhaling deeply.
Once you reach your chest, then push the weight back up while exhaling deeply.
If you are using dumbbells, then you will begin with them on your chest and exhale while pushing them up and inhale on the way down.
Back
For these, you also have the option of barbell or dumbbell, with one word of advice.
If you choose to use dumbbells, you will be using one hand at a time with one leg resting on a weight bench. You will get a much better stretch this way, though. However, for the barbell, you will do it as follows.
Stand with your back straight and your legs very slightly bent.
From this position, you will grip the barbell slightly wider than shoulder-width.
Next, inhale deeply and bring the bar up to your chest, squeezing your elbows into your body tightly.
Then exhale deeply and lower the bar to fully extended arm's length. And remember, if you choose the dumbbell route, you will have one knee and one hand resting on a weight bench.
Shoulders
If you choose dumbbells, we recommend that you alternate hands – left, right, left right – while counting your reps.
If you choose a barbell, then what you do is bring the bar up to the top of your chest, right near the bottom of the shoulders.
From this position, have your palms facing away from you and around shoulder width.
Then you push the bar up straight while exhaling deeply.
Next, inhale deeply as you lower the bar back down.
Biceps
As with the shoulder exercise, if you choose dumbbells, alternate left to right while counting reps.
Hold it at arm's length and palms just outside the thighs facing outward with a barbell.
Bring the barbell up all the way while exhaling deeply.
Make sure the upper arms do not move at all.
Then lower the bar back down while inhaling deeply.
Triceps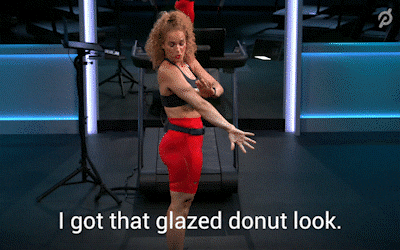 These can be done standing or sitting; however, it is recommended to do them from the standing position when first beginning. And if you choose to use dumbbells, it is suggested that you do one arm all by itself before doing the other.
On this exercise, if using the barbell, then what you will do is, with an overhand grip and hands at shoulder width, drop the bar to the back of your neck.
Then while exhaling deeply, push the bar up until it is at arm's length. You will then inhale deeply while bringing the bar back to its beginning position.
Legs
For this exercise, it is highly suggested that you do them with the barbell only in the beginning.
If you choose to do so, you can use a lifting belt for the stability of your back.
Place the barbell across the shoulders with an overhand grip at slightly wider than shoulder-width.
Inhale very deeply and lower your body until your butt is parallel with the ground.
You must keep the back from rounding or arching too much.
Once you are at the bottom position, then exhale very deeply and return to the starting position.
Of all your exercises, this is the one that you want to place a lot of emphasis on deep breathing as this tends to fire up the rest of your body and expands the rib cage.
Calves
These can be done with a barbell or dumbbell.
If you use the dumbbells, hold them against the outside of your thighs with palms facing inwards.
With the barbell, place the bar across your shoulders, overhand grip at slightly shoulder width.
Then push your calves up as far as possible and then return to the starting position.
Again, there are no set breathing recommendations for this exercise.
So there you have the basic beginner weight training exercises for your muscle-building program. This is all you need when first starting. Do not try to do too many different activities too soon. All this will do is lead to confusion and a feeling of being overwhelmed and discourage you. So easy does it, at least until you are accustomed to the basics.
Eating Correctly
Another vital piece of the puzzle in your quest for the best way to gain muscle is to eat correctly and often. Most people in the training game tend to eat small or medium-sized natural meals six times a day. Usually, this will consist of the breakfast, lunch and dinner meals being a healthy balance of protein, carbohydrates and healthy fats. The meals in between and perhaps after dinner may be protein drinks and shakes or light, easy to digest snacks.