With all the beauty blogs, YouTube channels, girly magazines, and those who think so highly of themselves, they coined the hashtag #beautyguru for their work; there is a lot of makeup mistakes flowing around over-simplified, wrong, or just plain stupid. So for this week's post, I decided to round some of the most common makeup mistakes, explain why you should avoid them, and show you the right way to do it.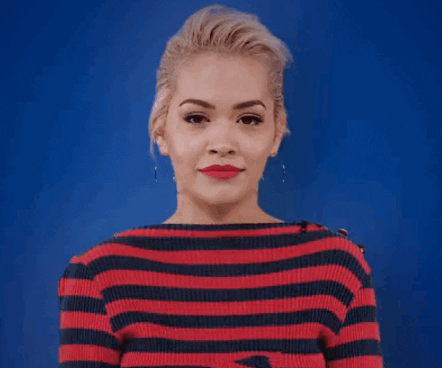 1. Follow your face shape when doing your eyebrows
Face shape types are complete and utter bullshit. This is one of the first things they teach you in any makeup school, and that's exactly what Tina Lasič Andrejević taught me. The problem with the six types of face shapes is that they don't actually exist in real life. Every person's face is different and, therefore, at best a mixture of those shapes, but in most cases not even that, so I guess you end up doing one straight and one arched eyebrow.
I'm exaggerating a bit, but just try to match your face to it, and you will see what I'm talking about. Eyebrows are the most important part of your outlook, and you can either do yourself a big favor or make yourself look really weird. The only thing you should follow is your natural eyebrow shape and just help them be more defined and tidy.
2. Follow your face shape when applying blush
This makeup mistake follows the same idea of every woman having one of the exact same face shapes, but if you look closely, only 5 types exist according to this chart and not 6 like the one above suggests. So if you have a diamond shape face, I'm really not sure how you should apply your blush.
What you actually should do is analyze the anatomy of your face and put highlight and shadow on the places where they should be, but if you're not trained in analyzing your face's anatomy, try finding your cheekbone with your fingers, apply bronzer right under the cheekbone, blend really well and then (that's optional) apply highlight slightly above the cheekbone, finally softly apply blush between those two – that is right on the cheekbone.
Blend really well into your hairline, and be very careful not to go too close to the nose. So hopefully, by now, I convinced you to ditch face shapes and start analyzing your face, so let's look at some other makeup mistakes to avoid.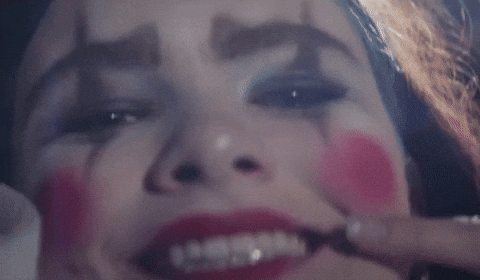 3. To apply blush, just smile and put it on the apples of your cheeks
This is one of the most common ones, heard even from the professional. The easiest way to explain this is to try it yourself. Smile and put your finger on the apple of your cheek, then straighten your face, and you will see where your blush will end up. That is awkwardly close to your nose and below your cheekbone on which it should be. If your blush isn't applied correctly, it can make you look like a clown, so do it right!
4. Use this face map to highlight and contour your face
This trend of heavy highlighting and contouring became very popular recently. People want to do it as Kim Kardashian does it for some reason but do not know about contouring and highlighting whatsoever, so someone made a face map, pointing out the places on your face where you should contour and highlight.
The problem here is basically even worse than with the face charts, as it offers a one-face-fits-all solution. Again any makeup you apply should be adjusted uniquely to your face. Highlight and shadow are in their origin meant for makeup mistakes, which is really hard to learn and requires a lot of practice, and I would advise you not to use them until you mastered them. You'll know you mastered it when you stop using face maps.
5. Use your hand to color-match your foundation
I used to work in the cosmetics sections of two of the most prestigious department stores in Ljubljana (Nama and Maxi), and I've seen customers, as well as my coworkers, do this all the time. The undertone of your skin is indeed the same on your face and your hand, but the shade is not. Although it seems cleaner and faster to try it on your hand instead of your face, you really don't want to do that because you will only end up with the wrong foundation. Take some time, wipe off your makeup and just try it out on your face. 6. Apply concealer before foundation
The logic behind this makeup advice is that you can cover the color of concealer by applying concealer before foundation. It should be self-explanatory that this idea doesn't hold water, but many advise you to do so. First of all, there are different colors of concealers for different purposes; for example, pink concealer is for brown under-eye bags, green concealer is for red pimples, and so on. So if you are going to apply the wrong concealer on the wrong spot, it is going to show through no matter if you apply foundation over it.
Also, if you apply concealer first and then go over with foundation, you will have an unnecessary amount of products on your skin, making you look cakey. If you apply foundation first, you already cover up the "makeup mistakes," and even out your skin tone to some extent, and then you have to go back with concealer to conceal just a few spots that foundation didn't hide.
Bonus
Just for a laugh, this is one of the most insanely idiotic pieces of advice I have ever heard. I found it while doing some research for this article, and apparently, you should use hairspray to set your makeup. Just use Fix+ or any other makeup setting spray.
Thank you for reading. If you like reading our blogs please don't forget to let us know about our website and get all the latest updates about new posts.