Today, I thought I'd do something a bit different; instead of talking about how to put makeup on, let's talk about makeup removal.
Sounds simple? Well, I guess it is, but the truth of the matter is that we're never really taught how you should be removing your makeup. 9 out of 10 of us will grab a wet-wipe and scrub away (which, by the way, is precisely what I used to do!).
Realistically, we do what we can to get it off and don't think about what it's doing to our skin; we might slap a bit of moisturiser on, but the question is whether that's enough?
After many, many years of using makeup wipes (some of which weren't even using makeup wipes, they were baby wipes because they were always readily available). I soon discovered that these are not the answer when it comes to makeup removal. They're harsh on your skin (even the 'sensitive' ones) and can be the cause of sensitive skin if used on a long term basis! It was this fact which got me to stop using them right away!
So what is the answer? Cream, cream, cream (and a bit of toner)!
The 5-step makeup removal routine you should follow
Eye-Makeup Remover
Squeeze a decent amount between two cotton pads and pad together to spread the cream evenly. Hold one of the pads between your fingers and place it over the eye, rocking gently in a horizontal motion. Do this for a few seconds so that the eye-makeup remover can start to break down the eye makeup (particularly on heavy eyeliners and long-wear mascaras).
Then wipe the makeup in a downward motion – never swipe to the side. This will drag the skin and encourages wrinkles!
Keep doing this until the pad has removed the majority of the makeup, then fold the pad in half (so the clean side is on the show and the makeup side is tucked under). Repeat the downward motions to pick up any excess makeup.
Finally, fold the pad in half again (dirty side in, as before), open your eyes and look up. Run the pad underneath the eye going from outer corner to inner corner. This will collect up any fallen makeup as well as any eyeliner on the lower lash-line. Repeat this process using the other pad on the other eye.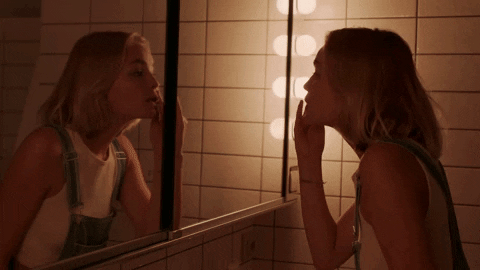 Eye-Makeup Remover for the lips
This is for the lips this time. And yes, you just read that correctly – for the lips.
Using a small amount on one cotton pad, place it between your fingers and hold over your lips. Rock backwards and forwards to remove any lipstick and eyeliner.
This is particularly effective for removing any lip-stain or long-wear lipsticks, which otherwise are a nightmare to remove! It's also really gentle on your lips and helps to keep moisture in.
Cleanser
This is the primary step for makeup removal, so make sure you have a good cleanser that suits you, as you'll be using it a lot! There are quite a few steps for this one, so I've broken it down a bit, but once you've done it a few times, you'll be able to do it in your sleep!
Take a big dollop on your hands and rub them together so that the cleanser is visible all over your hands. Gently place your cleanser covered hands down your face – starting on your forehead, followed by both cheeks, then your chin, and finally on your neck.
Use continuous upwards motions on your neck and under your chin and jawlines. This will remove any makeup on your neck.
Run your middle finger around your chin and under your bottom lip. This will dislodge any makeup which has got stuck in the crease above your chin (a common place to get spots if not appropriately cleaned!).
Make scissor motions along your jawline, going from side to side. This is a bit more tricky to do, and it can take a bit of practice before it starts to feel natural, but it's an excellent technique for getting rid of any tide marks and foundation lines.
Run both your middle fingers on either side of your mouth – going above your top lip, then back round to underneath your bottom lip.
Using your middle and ring fingers, make small circular motions around the tip of the nose and both nostrils. This is great for dislodging any makeup that may have settled in the crease around your nose (another spot-prone area if you're not careful).
Again, using circular motions, but this time a lot bigger and more relaxed, move your hands down under your cheeks, up onto the cheekbones, and then back down towards the nose, in an almost triangular move.
Run your middle and ring fingers, one after the other, over the top of your nose and up between your eyebrows. This move not only helps remove makeup but feels relaxing!
Go back to the scissor movement you did on the jawline, but this time run your hands across your forehead, going from temple to temple. This will remove any makeup from around your hairline, as well as any makeup on or around your eyebrows.
Finally, grab some tissue and gently swirl it around your face to remove the makeup. You'll be shocked how much comes off!
Do this routine again (always cleanse twice!), and if you have quite a lot of a heavy load of makeup, then go over the third time.
Toner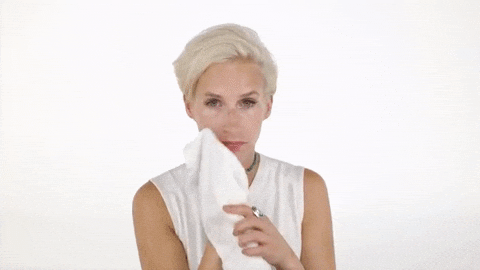 Toner is essential. By cleansing your face and getting deep into the pores, you disrupt the balance of your skin, so toner is necessary after washing. It restores your skin balance to how it should be.
Pore a decent amount between two pads and press together to spread evenly. You want a fair amount on, but if the pad is soaked through, then you've got too much!
Gently run both pads over your face starting from the centre outwards.
Grab a sheet off tissue and dab any excess toner off to make sure you don't look shiny!
Moisturiser
Even if you're not doing the full routine, it is super recommended that you use a moisturiser daily. It hydrates your skin and creates a fantastic base before applying your makeup and when you remove it.
Squeeze out a fair amount between two cotton pads and press together to spread evenly, then run both pads over your face, starting from the centre outwards, just like you did with the toner.
You'll find that after doing this makeup removal routine, your skin will start to look fantastic. It can be a bit of a long-winded routine, but once you get yourself into it, it becomes second nature, and you do start to see the benefits! It's also a great skincare routine to use even if you're not wearing makeup that day (just minus the eye-makeup remover) and can be relaxing if you've had a stressful day.