I went through a phase throughout high school where I was obsessed with having straight hair. As mine is relatively thin, it always went kinky, so I'd go over it throughout the day to try and get the perfect straight hairstyle – it never worked. Instead, my hair was just getting damaged, becoming thinner, and it made styling my hair even harder. I realised the first thing I needed to do was repair my split ends and get the strength back in my hair. In this article, we'll dive deep into the best tips to repair damaged hair.
Here are six practical tips to help you repair damaged hair so that, if like me, you want stunning straight locks, you can have just that.
1. Use hair serums & a heat protector.
A hair care product that I literally cannot live without is my hair serum. It has been a significant factor in helping me grow long hair. The serum I prefer to use is from Avon. The serum I use is the Instant Repair Rapid Rescue Serum, though they do lots of different ones for frizzy hair and one that contains argan oil. As I have oily skin, I find that the rapid rescue serum works best on repairing my split ends from heat damage without making them greasy.
Second, make sure you use a heat protector whenever you are applying heat to your hair. That's straightening, curling and hair drying. I use the Avon Heat Protector as I find that you often get the best finish for your hair when you use complementary products from the same brand. However, there are plenty out there that work wonders for your hair. So again, it's about finding what works best for you and your hair type.
2. Limit how often you use heat on your hair.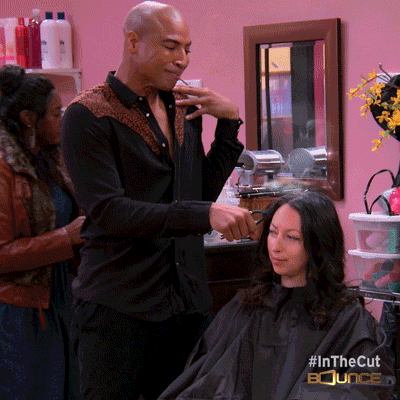 People don't always realise how often they are applying heat to their hair. You may think that quickly running the straighteners over the ends of your hair will do next to no damage, but it does. Unfortunately, that also includes using a hairdryer.
To prevent damage, opt for a curly look, a neat or messy bun or give your hair time to dry naturally.
I often go to sleep with damp to dry hair and use hair rollers or foam hair curlers to give me lovely bouncy waves in the morning – with next to no effort too! That limits my use of both straighteners and a hairdryer.
Tip: If you don't have time to ditch drying your hair, opt for a cooler setting and a slower speed. High heat and a fast speed together can be extremely damaging to your hair. Using a cold setting with less power will cause less friction on your weak, split ends, giving them the best chance to repair, even when you're styling your hair.
3. Swap bobbles for scrunchies.
Suppose you've decided to skip straightening your hair today; great. However, you only want to make sure the bobbles you use in your hair aren't causing damage. So opt for scrunchies and avoid using bobbles that contain metal bits in them.
You can buy bobbles without metal from pretty much anywhere as people often realise the damage metal bobbles have on hair and the same for scrunchies. However, I like satin or silk scrunchies best. After all, satin pillows are becoming a big "in-trend" to protect your hair when sleeping.
4. Get a good trim regularly.
I used to despise going to the hairdressers because I was afraid she'd chop a load of my hair off, and all I've ever wanted is luscious long locks. However, little did I realise that going to the hairdressers was terrific for growing long hair.
By cutting your hair regularly, you're constantly giving it a makeover, removing the straw-like ends and giving the strands of hair a better chance to survive rather than split off and become brittle and weak. In addition, it will automatically look and feel better after a cut, removing the dead and making space for the new.
Tip: The next few days after it's had the chop, avoiding heat at all costs is a must!
5. Wash your hair with lukewarm water.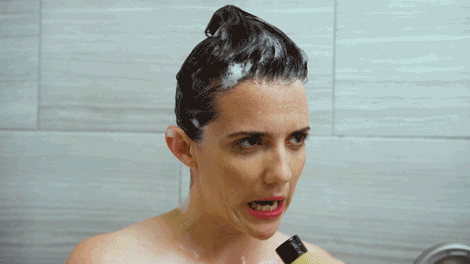 This tip I learnt from the Matrix, a leading professional hair company in the USA. I am a sucker for a red hot shower or bath, so I was shocked to find that all of this time and effort I have put into caring for my hair is ruined when I wash it.
So, what must you do? First, as I now know, you should wash your hair with lukewarm or cool water.
Tip: Cool water can help damaged hair by closing the hair cuticle and causing the hair shafts to lie flat, resulting in shinier, smoother hair.
6.Your body health helps improve hair health.
As a general rule, maintaining good overall health can help heal damaged hair. However, it's no lie that your entire body, hair included, is affected by what you eat and drink. To repair your hair, you can make simple diet changes like consuming lots of water and eating a balanced diet with various vitamins and nutrients.
A diet rich in lean meats and other proteins, vegetables, fruits and low-fat dairy help keeps hair happy.
One nutrient that I consistently find within hair serums and hair repair products is omega-3 fatty acids. These are found in salmon, walnuts and flaxseeds (also known as linseed) and fruit and vegetables like spinach, kale and carrots. You can find many hair supplements across the web that include these vitamins, though eating them as part of a balanced diet is usually the best option.
Summary
In short, repairing damaged hair involves the following points:
Using a hair repair mask or serums limits the number of times you straighten, curl or dry your hair, and use heat protection whenever you do.
It also requires getting your hair trimmed regularly, in the range of 4-8 weeks, depending on how damaged your hair is.
You should also make sure you don't tie your hair too tight and use scrunchies compared to overly tight elastic bobbles.
Remember to never sleep with your hair tied up and even opt for a silk pillow to limit the potential damage your hair can get overnight.
Finally, don't wash your hair in too hot water and make sure you eat a balanced diet consisting of omega-3 fatty acids to supply your hair with the proper nutrients.