I love having curled hair! But, unfortunately, it takes time to curl hair, and there is nothing more frustrating than spending time on your hair to have it go flat in a few hours. But since I've learned some techniques to curl thin and straight hair, I've been able to get my time down to around 20 minutes, AND the curl sticks around all day.
If you have thin, straight hair, you know how challenging it can be to make your hairdo anything other than stick straight. So here is some help for the lifeless hair!
Oh, what to do, what to do with thin, straight, lifeless hair.
If you are looking for some tips on getting some curl in your hair and how to get that curl to stay, I hope the techniques I have learned can help you too!
I've had chin-short hair for many years, but I decided to grow my hair out about two-and-a-half years ago. So, yes, it was short!
After about 30 months, my hair is now at about the bottom of my shoulder blade.
It's such hard work to grow hair out! I love my long hair, but missing my short hair.
As I've grown my hair, I've been experimenting with my curling iron. Mostly I've been frustrated, but after a trip to the hair salon last November, I got some great tips, and I'm finally getting somewhere!
Techniques to curl thin and straight hair
Here are the techniques I use. Of course, I'm not a pro, and my hair doesn't look professional, but for me, I love the look I've learned to create.
1. Start with a new curling iron.
My previous iron was almost an antique. I bought it when I was 16, so it's 14 years old. Its high setting was more like a low. Getting a new iron with much higher heat settings helped a lot with getting curl into my hair. My iron is nothing special, just capable of getting up to around 400 degrees. I don't set it this high; on a dial setting of 1-30, I'm at 20.
2. Buy better quality hair styling products.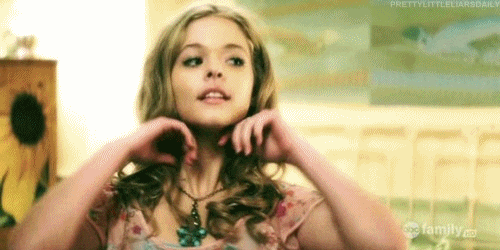 My hairstylist said, "It's all about the product." You can have great technique, but the hair will flop after a little while without a good product. So I started using Catwalk Curls Rock hairspray and Big Sexy Hair Stay and Play Harder hairspray.
These products are a bit pricy, but basically, it uses these and has curl, or use the cheap products and not have curls that stick around (and have to use A LOT of product!).
Sometimes I use a Tresemme mouse, but my hair is a bit finicky with mouse, and sometimes it responds well to it, and other times it just makes my hair flat (even flatter it was than before!).
However, I have found that if I skip mouse and blow dry my hair and then use these hair sprays, my hair responds quite well.
3. Coat hair in hairspray.
Before curling my hair, I spray a lot of Big Sexy Hair hairspray onto my hair and then brush it until the hairspray dries. Once the hairspray is dry, it's safe to use in a curling iron. Curling hair that is wet with hairspray will quickly damage your hair.
4. Divide hair into several sections.
I usually divide my hair into a top and bottom layer then put four curls into each layer. Since then, I found that if I just put five total curls into my hair, three on the bottom and two on top, my curls look a lot better.
There is something about my thin hair that the fewer curls, the better defined they look. Unfortunately, the more curls I put in, the more jumbled the curls end up looking.
5. Hold the hair in the iron for a while.
When I have a large section, I hold it in for about 30 seconds, or until the hair outside the iron is warm.
6. Hold the curl in place for a count of 10.
When I take my hair out of the iron, I hold the curl in my hand until it cools slightly. I used to put a bobby pin on the curl to keep it curled up until completely cool, but this just made my curl too tight and like I had stuck my finger in an electric socket.
As soon as I take the curl off the iron, I hold it in my fingers for about 10 seconds to help the curl stay tight.
7. Wait for the curl to cool.
Once all my hair is curled, I refrain from brushing my hair until all the curls are completely relaxed. This helps the hair hold the curl.
My curls are cooling. I usually do my make-up during this time.
8. Add Big Sexy Powder Play.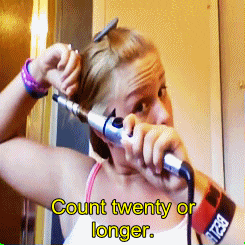 This is a powder I shake onto my hair before backcombing.
I shake the powder on my hair near the roots, right at the spot I will backcomb. The powder makes the hair sticky (not sticky to the touch, just sticky to itself) and helps the hair stay in place after backcombing.
If you've backcombed your hair, only for all the hair to go right back to its normal position, this stuff will blow your mind. When my hairstylist used this on me, I was amazed by the volume she could put in my hair and bought the product right then and there (and then I could replicate that same volume on my own later).
Yes, now there is more volume!
9. Comb or brush the hair.
Your hair will probably seem like a big mess at this point, but it will get better. Once I've teased my hair up and brushed out the curls, and then finger curled them a bit, I then add the Catwalk Curls Rock hairspray. This hairspray is great at defining and brings my curls to life. Then I add a little more Big Sexy hairspray to my roots to add some more hold to my backcombing, and voila! I have curls! My hair stays this curly all day long.
These curls stay with me all day long!
10. Put hair in a bun at night.
I used to think that my curls should stay in through the next day, but my hairstylist assured me that this is probably too much to ask of my hair, even with a great product. So instead, I've learned a different technique.
At night, I put my hair in a loose bun, pin it securely, and sleep on it. The next day I take my hair out of the bun, and I still have curl in my hair (although it takes a little bit of time to finger curl the hair back into the right places).
11. Or, re-curl the hair the next day.
Since I already have a ton of product in my hair, it doesn't take that much time to put five curls back into my hair, probably less than ten minutes.
Follow these easy steps to curl thin and straight hair. They don't cost much, but they guarantee to give you volumized curly hair all day.