How many times have you been scrolling online (or offline) shops for high heels, and you couldn't decide which ones to buy? Wouldn't you have loved to have a short checklist to help you with your shopping decision? Well, you will find the checklist at the end of this post but let's first talk about the points in detail:
Platform
Nowadays, almost every beautiful pair of high heels possesses a platform. And this is both good for the wearer and the viewer.
The actual slope of the heel is only the difference between the heel height and the platform height. Therefore, a platform makes walking in really high heels much more comfortable.
Wearing shoes with a platform thus allows you to wear higher heels, which increases their sexiness. But also, the platform on its own looks good.
However, don't go overboard with the platform! Platform heights of over 2.5 inches belong in a special line of work and not on the feet of a stylish lady.
Although there are exceptions, perfect heels should have a platform.
Heel height
Heel height for perfect high heels should be between 5 and 6.5 inches, accompanied by a matching platform, of course. The difference between heel height and platform height should be between 4 and 5 inches. If the slope is higher, it just looks weird, not beautiful anymore.
In my opinion, perfect heels have to be high, but if you feel uncomfortable with these heights, here is the spot to cut back. If the heels are gorgeous, otherwise, they will be fine with a shorter heel. After all, nothing is more unattractive than a woman who cannot walk on her heels.
The heel should be 4 to 5 inches higher than the platform.
Heel style
Stiletto heels are the gorgeous heel style. Nothing beats their elegant slenderness. Wedge heels come in as a close second. They provide you with better stability but are still very sexy. The distanced third, but still very lovely, are thin block heels. If you don't feel comfortable walking on stiletto heels, you should go for them.
Do not ever buy shoes with a cone or spool heel. Every type of heel where the thinnest part is not at the bottom is very inelegant and should not be worn by you.
There are several types of unique heels where the heel is formed in the shape of a gun or spheres or not straight in any way (so-called fantasy heels). This kind of heels might be funny, but you shouldn't buy them, they are far from beautiful.
The perfect heel has a stiletto, wedge or block heel. Stiletto is preferred.
Toe box style
There are three different categories of toe box styles: Closed toe, peep toe and open toe.
If the shoe is closed in the front, you should go with a style called the almond toe, which is the perfect balance between pointy and round. Too sharp looks strange, and too round looks boring. Have a look at those pumps; they are right in the sweet spot.
Peep toes are lovely. Nevertheless, there is one thing you should consider: The number of visible toes should be 2 or 3. If only one toe is visible, the peep toe is too small; if more than three toes are visible, the peep toe is too large and not so beautiful anymore.
Open toe areas should only be considered for sandals. Available toe pumps are much less beautiful; instead, go for a peep-toe pump. The same goes for booties.
Closed shoes should have an almond toe (neither too round nor too pointy), peep-toe shoes should only reveal 2 or 3 toes, and open toe only works for sandals.
Colour
With the primary colour, you should follow the classics: Black, blue, red, pink and nude. However, if you want to level up things, go with the trendy neon colours or metallic (gold, silver or copper).
Your shoes don't have to be plain; a second colour can add beautiful accents. But don't go overboard on colours; wildly patterned heels are just confusing and not sexy anymore.
Excellent colours are black, blue, red, pink, nude, neon yellow, neon orange, metallic gold, silver and copper.
Material
Patent leather is king. Everybody likes shiny and sparkly things, and there is no better attention grabber than a patent leather high heel. Even heels that wouldn't qualify for the boyfriend approved seal will be dramatically upgraded by patent leather.
Normal leather comes second; the shinier, the better, of course. Suede can be very classy as well. Denim and cloth are not recommended.
Some shoes are covered by sequins or similar. These are very beautiful as well. Shiny, glittery and glossy things are always great.
The material for the heel and platform allows for more diversity. Wood and cork are nice. However, for the ultimate look, the heel and platform should also be covered by patent leather.
Patent leather is number one; regular leather comes in second.
Accessories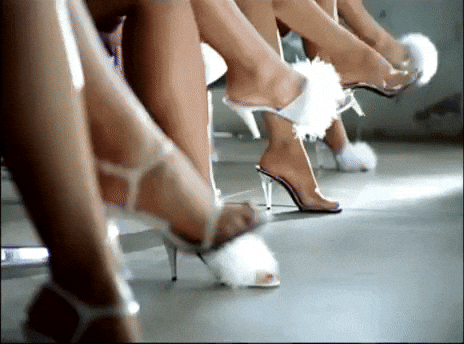 There are many ways how you can add something to the look of your heels.
Generally, shiny attention grabbers like chains, buckles or metal plating are the best. However, they shouldn't deflect from the main attraction, the heel itself.
The trendy accessories like chains, buckles and metal plating are fantastic but don't go overboard.
Special features
Like accessories, special features can dramatically improve your shoes.
The most famous example is the red soles of Christian Louboutin shoes. They are so unique; it's hard to top that. So if you can find heels with coloured soles (shades of red and pink are best, metallic soles are great, too), and they fulfil the other criteria, buy them immediately. Coloured soles are just very sexy.
Other features can be placed on the upper part of the heel or the platform. For example, laser cutouts or lace that covers the shoe are gorgeous. That way, you can show your feet, but they are still somehow hidden, which is quite sexy. Of course, any metallic features on the platform are gorgeous, too.
Spice your heel up with unique features like coloured soles, cutouts, lace or metallic elements.
General look
When buying heels, you should always ask yourself: "Are these shoes making me look like an elegant woman?"
You don't want to look like a little girl. Therefore the shoes should not have too many animated features. But, on the other hand, you are a grown-up woman, and you should dress like one.
While there is nothing wrong with badass shoes, they should, overall, add to your feminity. It is ok to play with dominance and power (strong women are great), but it should be female.
The look of your high heels should be elegant and feminine.
Mindset
High heels are only really sexy if they are worn with confidence and pleasure. Therefore, you should only buy heels if you love them and can't wait to wear them.
If you followed this guide, you could be sure that your heels are fabulous – you have no reason not to be confident when you wear them. So get your perfect heels, put them on and show them to the world. Natural beauties should be shared with others.
Don't buy heels unless you can't wait to put them on.
Conclusion
These are a lot of points for choosing the perfect heel. Of course, not many shoes can fulfil all criteria. But not all of them have to. Just use this list as guidance and choose the heels that are perfect for you. After all, there are many suitable high heels and who says you can only have one pair?