For many days I have been questioning why I have to bear the pain to get rid of my body hair? Why I cannot shave them and have smooth and soft skin like I have after waxing. And why do boys have all the fun? Well, I have got the answers, i.e., shaving with a razor.
No doubt that waxing makes my skin super soft and clean but is it worth it to bear all such pain? It is not less than torture for me when my hairs are pulled off harshly from both hands simultaneously. But if you are still unaware of it and want to know If shaving is terrible for women's skin, keep scrolling.
In my teenage years, I have tried shaving on my legs, which has given me hilarious results because I don't know the correct way to use it. After that, I don't get the courage to do it again. As such, all the parlours have also threatened me about it. They say after shaving, your hair will be tough, thick, and dark. And somehow, I believe them because I also see those results.
But what made me stick in a confused state is that after waxing, they are also in a similar category.
So, I was against shaving, but a few days back, I asked my dad how do you shave, and he said that first I apply shaving gel to prep it and so on. Then I watched youtube videos and got an idea to shave. After that, I thought of doing it again in the best and better way. Also, the lockdown period has made me very lazy, and the thought of going to a parlour to get off hair irritates me.
And believe me or not but I get beautiful results. But, before you jump to any conclusion, let me tell you that shaving is not that simple. First, you have to learn some tips and tricks for soft-touch skin, which I have learned these days.
I will share my whole experience on shaving with a razor through pictures and give you a brief on waxing vs. shaving. So stay connected.
Is Shaving Bad for Women's Skin?
No, shaving is not bad for women's skin. You can shave your arms, legs, armpits with a good quality razor and have smooth skin. I have tried and tested it before sharing it with you. So I know there must be several questions running on the mind of every girl who is reading this out. So here I am answering all of them and busting the shaving myths.
Does shaving make hair grow thicker or darker?
No. Your hair growth may not be thicker; it can certainly feel like that. Because after shaving, the hair grows blunt as they are cut with a blade.
It grows back to how it was; the tip will taper back out from the wear as time passes. Just give it a few weeks. Shaving does not increase the diameter of your current hair follicles. If you still face a thicker growth, then it might be due to genetics. This is what I experienced two months back.
Why is it said that the skin becomes dry after shaving?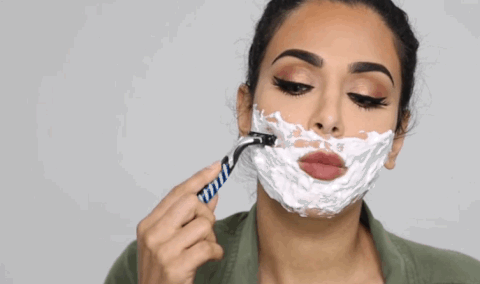 It is critical to take care of your skin after shaving. Yes, it becomes dry and flaky when you don't give enough moisturization.
Whether you are waxing or shaving, skin is going under a procedure in both cases, and you need to moisturize to keep it soft and smooth. Make sure to apply a moisturization or cream after ending up with hair from your arms, legs, and armpits.
Does shower gel work the same as shaving cream for shaving?
No, a soap or a shower gel doesn't make a better substitute for shaving cream. I am telling you these from my own experience. You will end up getting more razor burns and cuts. So I would suggest you use only shaving cream for this purpose.
Is it okay to shave my face?
It is true that after shaving, your hair grows faster, and if you shave your hair, then you have to do it every day, which is not at all good for your skin. Also, you will start noticing your hair after 18 hours of shaving. So, I would not recommend this.
5 Steps to Get the Smoothest Shave
I know you are eagerly wanting to know what is the secret of getting smooth skin after shaving. So, without any further discussions, let's jump into this. Here I have listed the five steps to a smooth shave:
1. Take a steamy shower to soften hair.
A steamy shower does wonders to your body, hair and skin. In addition, taking a steamy shower will prevent you from getting micro-cuts and irritation.
What must you do to get a pain-free shave?
Wet the hair in warm water for a few minutes.
2. Exfoliate the skin.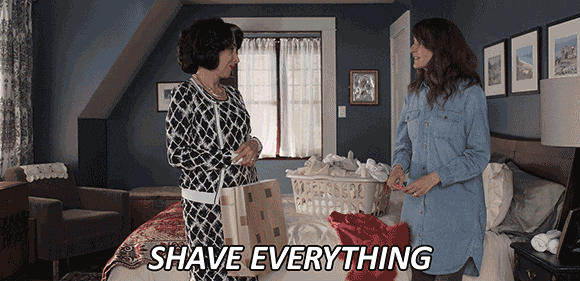 Exfoliating your skin means washing your body with a granular substance that will remove dead skin cells. So, it is crucial to exfoliate your skin before shaving. Dead skin cells clog your hair follicles and hide your hair under the skin, which further results in ingrow.
Take a pumice stone to get rid of the dead skin.
Alternatively, you can use a light exfoliator product that has BHA. I would recommend you to use Neutrogena Body Clear Body Wash because it has BHA salicylic acid.
3. Apply the shaving cream.
Now, if you are done with a steamy shower and gentle exfoliation that has opened your pores, it is best to apply shaving cream to the skin.
Apply the correct shaving cream, i.e., Gillette Sensitive Skin Shaving Cream.
Allow it to sit for one minute or two to soften the skin before shaving.
4. Shave with 2-blade or 3-blade razor.
For a smooth shave, you don't require an expensive razor. A sharp razor of 2 blades is enough for shaving. Don't use an old razor as you will need more passes which means irritation and razor burn. You can use your new razor 10 to 15 times for shaving (for this store razor at a dry place).
Now let me tell you how to shave:
Shave against the direction of the hair growth, and when you are done, shave that part again in the direction of the growth. By following this way, you will get rid of even the tiniest bit of hair.
5. Moisturize the area for smoother skin.
All the essential steps have been done but don't forget the finished part. Otherwise, you will ruin your nice shave. When you shave, the upper layer of the skin gets disrupted, which causes dryness, redness, and irritation.
Apply a moisturizer on the skin soon after shaving.
Firstly apply Coconut Oil and then again use a Nivea or Ponds Moisturizer to give it enough nourishment.
Keep your skin nourished for long to have soft-touch skin for days.