We've talked about lots of healthy natural stuff so far for your belly and your skin. Now, as a part of my hippie series, I'm going to talk about some natural alternatives like cloth pads and menstrual cups to dealing with your lady week.
I'm a couponer, and prepping for a period has always involved buying armloads of pads and tampons at a time. But, as I've worked on getting rid of chemicals from the house and finding a more planet-friendly alternative to my feminine products, I came across a whole load of other options that I'm excited to share with you! Well, as excited as someone can get talking about period paraphernalia. I'm not getting any money from recommending these, just passing along the knowledge!
Cloth Menstrual Pads (aka Mama Cloth)
Cloth menstrual pads are super cool. They are made of absorbent cloth and a liquid-resistant layer (fleece, PUL, nylon, etc.) that stops leaks. Just like your favourite disposable version, they come in lots of sizes, absorbencies, and varieties.
There are lots of commercial brands like LunaPads, Glad Rags, and Party In My Pants. However, you can also get non-commercial ones on Etsy. My favourite Etsy stores are Pink Lemonade, Tamarack, and Stitched By My Hand.
There are several different styles of cloth pads. There are ones where you stick an insert inside an outer covering (much like a pocket diaper if you do cloth diapering) such as Glad Rags, there are ones that you put inserts on top of an outer covering such as LunaPads and Tamarack's Jazzy Pads, and there are ones that you use as-is (much like an All-In-One diaper if you do cloth diapering) such as those made by Party In My Pants and Pink Lemonade and Stitched By My Hand.
With ones that use inserts on top of the holder (like LunaPads), you add as many inserts as you need (fewer inserts for light flow, more for heavy flow) and take out the inserts as they get saturated. With the pads where inserts go inside an outer covering or ones that you use as-is, you remove the whole thing when it gets saturated and put a new one on.
This brings us to the next point; what do you do with the pads when they're dirty? I mean, you don't throw them away. I have a small wet/dry bag that I keep in my purse. I also have a bigger wet/dry bag that I keep at home.
The dry compartment keeps fresh, clean pads in; the wet container is for dirty ones. You do not need to rinse pads when you change them, which is good news for workdays or travel days. Fold the dirty pad into itself, so the dirty wet part is enclosed by both ends. Then throw it in the wet compartment.
When it's time to do laundry, rinse the pads in cold water and throw them in the washer with your wet/dry bags. You can do a separate load for just pads or throw them in with your regular laundry. Follow manufacturer instructions for detergents. I've never had an issue with any of them coming clean in the wash, but if you have problems with that or residual funky smell, wash again use Bac-Out. If you cloth diapers, you already know the magic of Bac-Out.
The only brand I've mentioned that I've never used is Party In My Pants; the rest I've used and never had an issue with leakage or other problems. I've travelled with this cloth pad system that I've started, and it was a dream! There's no need to find a garbage can in airports, no annoying adhesive sticking to your leg, no stinky bathroom garbage to deal with. Cloth pads are so comfortable.
Menstrual Cups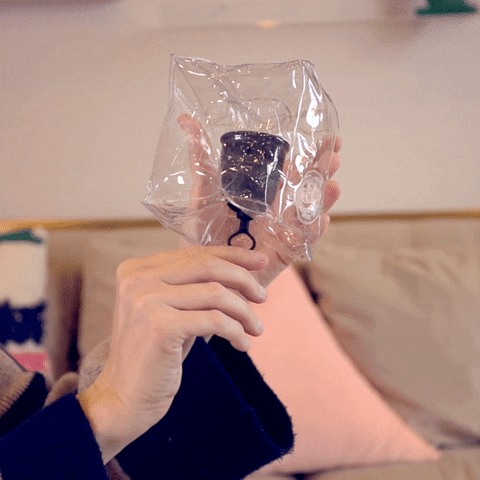 If you like tampons but don't like carrying them or having to watch the clock to make sure you don't get TSS, menstrual cups are for you.
I have the Lunette, which holds the same amount of fluid as three super plus tampons. Seriously. You can keep the Lunette in up to 12 hours before taking it out and washing it. That means you can get through your workday without having to deal with your period. Pretty awesome!
I have friends that have the DivaCup and the Moon Cup and love them too. However, there are several other brands for menstrual cups.
Menstrual cups don't take long to get used to. The first time you used a tampon, you probably looked at it like it was a foreign object, and it took you FOREVER to figure out how to put it in. The menstrual cup will be awkward to put in the first time, but after that, you'll be a pro.
Follow manufacturer instructions for cleaning the cup. Most menstrual cups last for years and years and years. So if you're looking at it from a financial standpoint, you will easily make your money back with a menstrual cup within the first year.
Other slightly hippie alternatives
I've heard of people using sea sponges as a natural tampon. I'm not a fan of this because of how sea sponges are gathered, and I don't think it is particularly sustainable. There are also compostable tampons and pads.
Just like compostable disposable diapers, these will not break down on their own in the landfill any better than conventional disposable products. If you compost, excellent, these could be a perfect option for you if you don't like the idea of using reusable products.
You also have the option of going the cloth pad route by upcycling fabric in your house. Again, there are lots of websites out there showing how to do this.