Bikini waxing is a topic I always get many questions about, especially this time of year. An uncomfortable snicker and a whisper usually accompany it. So, what are the different types of waxing? I thought it would be a good idea to share my knowledge about bikini waxing.
Different types of bikini waxes
There are lots of different names out there for the various "levels" of bikini waxing, but most wax salons offer three options:
Bikini wax
This wax includes the upper, inner thighs and inside the bathing suit/underwear line and a little off the top – just below the bathing suit/underwear line. It is the most conservative option.
French bikini wax
This is a more skimpy bikini wax. Aestheticians remove everything in the front except for a thin strip around the inner areas. You can take everything off the front or leave a narrow strip.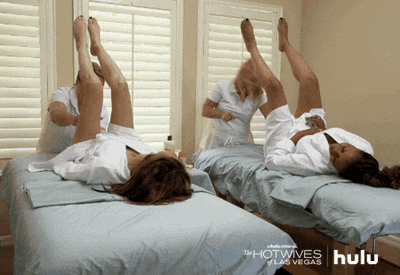 Brazilian bikini wax
This is everything off – front and back. Some people choose to leave a thin strip in the front, but all the hair from the inner areas and the back is removed.
How to know which wax is suitable for you
The answer will be different for everyone. It just depends on what 'look' you like, how skimpy your bikini is, and what your pain tolerance is. We all have different 'situations' in the hair department – the amount of hair, thickness, how tight it holds on, and your pain tolerance is very different for every person.
I don't think anyone should feel like they should have a Brazilian wax if they don't personally want one – I hate to think women feel like it is expected of them. Do what works for you and what you think best with!
How to prepare for your waxing session
To prepare for your wax, make sure the hair is the correct length. The hair should be at least 1/4 inch (about the length of a pencil eraser) but not longer than a 1/2 inch. If the hair is too short, the wax won't pull it out, and you won't get a great result – it takes most people about 4-6 weeks to have the proper length of hair for a wax.
If the hair is too long, the wax is more painful, and you risk having the wax get matted up in the hair – more painful for you and more difficult for the waxer.
You can also take some Advil or Ibuprofen 30 minutes before your visit and gently exfoliate the area if you are prone to ingrown hairs.
What to expect in your wax session
Again, this may differ depending on where you go, but you will be brought into a private room at your chosen wax salon. Depending on what kind of wax you are having done, aestheticians will instruct you to change into disposable panties (so they don't get any wax on yours) or take your pants and underwear off.
You will lay on our aesthetic bed on a clean paper sheet. Wax salon usually provide a clean paper cloth to lay over your lap for your comfort. They leave the room while you get situated. During the service, they will talk you through it.
While waxing the front, they have you bring one foot up to your knee to open up the inner thigh. They will wax one side, then have you relax that leg and bring up the other.
For a Brazilian wax, you will have to flip over to lay on your stomach to wax the back at the end. Brazilian waxes are not for the shy – aestheticians have to get into your very personal areas. But they are professionals, they do it all day long, and they have seen it all. Think of it like visiting your doctor – they aren't embarrassed by it, so you shouldn't be either!
What can go wrong, and what should you look for in a good waxing place
If the wax is too hot, it can burn or lift the skin. Some waxing places use soy-based wax with a lower melting temp so it won't burn the skin. If the wax feels uncomfortably hot, make sure you tell your therapist right away.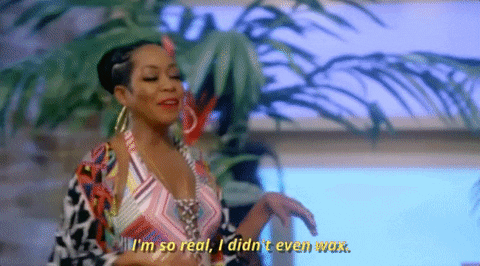 Suppose the wax isn't applied and removed in the right directions. In that case, the hairs can be broken off instead of pulled out – that's why you will notice the therapist using the wax in many different directions and pulling in various directions. Some areas have lots of different directions of growth – one of the reasons it can be difficult to wax, and you want a therapist with lots of experience waxing.
Ingrown hairs are an issue that lots of us have. Proper waxing will cut down on them, but they are always possible. They occur after waxing because the hair follicle is empty, and the bacteria that naturally live on your skin can get in and cause a little bump. As the hair starts to grow in again, it can get trapped. An antibacterial wax helps prevent this, and you can use a post-wax cream or treatment product with salicylic acid.
You should look for a spa that is clean and uses sanitary practices. Ask how often their therapists do bikini/Brazilian waxing – it is something that estheticians get better at with lots of practice. You should also be with a therapist that makes you feel comfortable – it isn't an easy position to be in – you should feel as safe and comfortable as possible!
A few rules that should always be followed:
The therapist should always wear fresh gloves.
The table should always be covered in clean paper.
The waxing sticks should be thrown away after being used in any inner areas or any area that bleeds.
How to treat your skin afterwards
For up to 24 hrs after your wax, each hair follicle may be red, and the entire area may feel sensitive and even a little puffy – like a minor sunburn – especially the first time you wax. Some people have no sensitivity after – it just depends how thick your hair is, how much you have and how tight it holds on. If you have any skin that lifts and leaves a raw patch behind, apply Neosporin to help it heal faster and protect from infection. This shouldn't happen, but if it does, you should let the spa know so that they can remedy that situation.
If you are prone to ingrown hairs, pick up a post-wax, ingrown hair eliminating cream or treatment product.