It is incredible how many healthy diet tips are available to tutor you with losing weight quickly. Sometimes, they become so overwhelming that you jump right into these and do the whole bunch of them all at the same time without realizing the fact that all you need is a pause.
You do not need these thousand pointers in a day. Instead, you only need a couple of them at a time. So skim through the following proven healthy diet tips, pick a couple of ideas and come back for another two after two days until you reach the finish line – lose weight.
The only healthy diet tips you need
1. Drink plenty of fluids.
Your body needs plenty of fluids to hydrate its systems. Aside from draining down the toxins in your body, water normally shapes your body up to a more physically fit and healthier condition. Also, drink up a cool glass of water the moment you wake up, right before eating breakfast. This lubricates the dried up systems of your body and triggers the juices in your digestive system.
Moreover, it makes you feel full, minus the calories that you get from eating real food. This will surely put you off from any overeating tendencies, especially when you take in a glass of fluid before and during meals.
Water plays a more salient role than you think. Your weight is composed mainly of 66% water! So never miss out on your fluid intake and drink as much as eight glasses of water a day.
2. Have a glass of water before eating a meal.
Water helps you feel fuller so that even if you don't eat the usual amount of food, you still feel stuffed.
3. During meals, continue to drink water.
Take sips of water after each bite. It helps the food settle faster in the stomach, and you get the feeling that you're already full and stops you from gorging like there's no tomorrow.
4. Dodge those sodas.
Those sweetened carbonated drinks contain sugar that has unwanted calories in them. If you cannot do away with your cravings with fizzy drinks, then at least try diet sodas instead.
5. Eat food with more water content. Tomatoes and watermelons are samples of foods that are composed of 90-95% water. Indulging in these foods benefits your body as you leave unscathed by those additional pounds brought about by calories.
6. Eat fresh fruits!
As opposed to fruit juice, fresh fruit is a good source of vitamins. Fruit juice (those that come in a bottle or similar) are already artificially sweetened. Fruits have natural sugars, which are less fattening than canned or bottled versions. Drinking fresh fruit juice and eating fresh fruit helps increase your fibre intake.
7. Get your Fibre.
Filling your body with fibre is healthy. It flushes those toxins in your digestive system and helps in regular bowel movements. Fibre is commonly found in fruits and vegetables.
Fruits, in particular, boost your immune system and a great source of vitamins that are healthy for the body. So remember to pick fresh fruits over processed ones and if ever you are caught up with a craving for fruit juice, try eating fruits or making a fresh fruit juice instead.
As for vegetables, refresh yourself with a salad in your diet. That usually does the trick for filling your stomach without those extra pounds.
8. Eat only when you need to.
Food is tempting, and every time we come within proximity of it, we tend to eat. But, unfortunately, parties are often the bane of dieters – remember, a whole week of intense dieting can be ruined by a day of party food.
So eat only when you're starving, and learn to stop yourself from grabbing a bite every time you see something sumptuous.
9. Eat wisely.
Man is endowed with the intelligence to pick out what is best for him. So pick foods that will do you good and feed your body what it needs and not just what your taste buds are tickling for.
Monitor what you flush down your esophagus, and do not simply indulge in whatever you want. It always pays to be watchful of what you eat.
10. Lower down the sugar.
Sugar usually comes from pastries, confectioneries and chocolates, which mean plenty of calories. Don't forget to try to steer away from sodas and bottled fruit juices. To ease down on the sugar to not add up on your body as fat deposits.
11. Say no to snacks.
Snacks are usually junk food, and junk food is loaded with calories and fats. They don't even make you full! If you really must snack, try snacking on vegetables and fresh fruits instead of eating junk.
12.Count the calories you've consumed.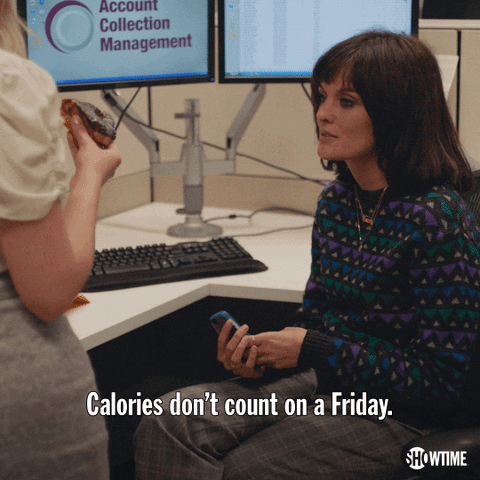 You can always check the number of calories on food labels or online or even ask the staff if you're eating out. This way, you have control over your calorie intake. Keep a list of what you've eaten and the corresponding calories (or estimates of such) after every time you eat.
13. It is all about timing.
Eat your meals on time and stick to that regimen. Maintain an eating pattern and only allow a 30-minute adjustment to this schedule. Losing track of this habit might cost you your appetite or make you gorge on your next meal.
Only eat when necessary. If your stomach calls for food, then eat but make sure to avoid mid-meal snack time. If you feel it is inevitable to fight your cravings again, don't hesitate to feast over vegetables.
On the other hand, when you are stuck at a party and offered a platter of extra pasta after eating dinner, only nibble a bit to show some respect while keeping your diet in mind.
14. Relax on the coffee and tea.
Working hard and waking up to an early cold morning can surely be tempting for that cup of tea or coffee. True, these two beverages are safe to drink. But what is also true is that the sugars and cream that come along with these are high in calories.
A slice of a moist chocolate cake is equivalent to a couple of sugar cubes and a dose of cream in the coffee. If you may, try picking black coffee or tea. Limit your intake to just two to four cups a week since coffee may be a little harmful to your diet, considering it has an alkaloid that may be detrimental to the body's functions like metabolism.
15. Chocolates should be a luxury.
Do not make chocolates as part of your daily routine, as most people do. It should only be a luxury that you should indulge in from time to time. Don't keep chocolates at home, but reward yourself to them now and then by taking a trip outside your home to enjoy them.
Losing weight doesn't have to be difficult as long as you know what to do. These are just fifteen healthy diet tips to help you get started. To do your part, start picking a few from the above and start that routine already! Then, incorporate the rest over time as you go.