In this article, we will discuss all the tools which are considered to be of importance to the DIY Bikini wax; some of them will be a strict necessity while others can be regarded as optional; we will mention them why they are essential and when will you need to use them. All in all, we hope to help to enhance your DIY bikini wax experience!
DIY Bikini Wax Tools
1. Sensitive skin shower gel
Before proceeding with the DIY bikini wax, you will need to ensure that all areas are spotless. Hygiene is the number 1 priority before undertaking the bikini wax. If you leave the area unclean, it can cause the wax not to stick correctly. This can potentially not remove portions of pubic hair, leading to extensive use of tweezers, which might not be too nice.
2. Baby powder
You might be wondering why in the world would you be getting baby powder. The answer is straightforward; the baby powder helps to absorb all sort of liquids.
If you think about it, whenever you are about to wax, you will want the wax to stick as much as possible, so it captures the pubic hair most efficiently. The baby powder will absorb any liquid, oily residue, or water left on your skin. And this is very important because oily skin can leave large amounts of pubic hair left.
3. Hairbrush
It is not an indispensable tool for a bikini wax. However, it has two functions: first, it is beneficial to help measure your overall hair length (more on this later); second, it enhances the waxing hair removal power.
If you brush your hair upwards, just so it is "spiky," it will be easier for the wax to grab a larger amount of hairs and adhere to the hair a lot stronger, so it comes out easier.
4. Pain reliever
You can either use a topic anesthetic (cream or spray) or take an aspirin. This will reduce your nerves sensitivity, causing a direct pain reduction. It is not required for the bikini wax to be successful, and it depends on your level of pain tolerance.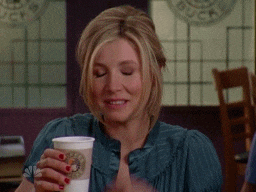 Some people deal with pain better than others, and in most cases, the use of a pain reliever is not a necessity. This being said, we would recommend you to use a topic anesthetic for your first DIY bikini wax. Feel free to use it for the following procedures. However, the pain itself will be reduced over time.
5. Scissors
A pair of scissors will be required if your hair is longer than 0.5 inches (1.75 centimetres). Why? Well, if you decide to go for a bikini wax with longer hair, expect a lot more pain than what you would typically feel; you probably don't want that, do you? We don't, and that is why we always recommend a simple trimming procedure before waxing. 
We would also advise you to use the scissors if the hair level is unequal. Having the same hair length across the bikini area will ensure a lesser amount of "unwaxed" hair.
6. Mirror
Yes, a mirror is unarguably and required for the DIY bikini wax. Whether you are undertaking the Brazilian/Bikini wax with a friend or on your own, always use a mirror.
What type of mirror are you going to need? You will need two mirrors: a large one where you can see yourself while sitting down and a neck mirror to continuously spot the areas you cannot usually see while looking down.
Believe me, you will want to know where you are placing the wax, and a neck mirror is a simple solution that will enhance your experience.
7. Comfortable spot
A comfortable environment is often an overlooked factor. Yes, waxing at home will already provide you with a great comfort zone. However, there are several ways in which we can enhance this experience.
8. Music
One way to create a comfortable environment is your music choice. Make a choice of music that relaxes you, a selection of music that makes you leave any fear behind, but more importantly, a choice of music of your taste.
Music is used by many businesses to avoid tensions, create better relationships and enhance the overall experience. You can see this not only in the health and beauty niche (spas, beauty clinics, massage clinics, etc.) but also in many other businesses, such as banks, clothing shops, and many of the customer service section of some companies.
All in all, we consider music to be a significant factor, so don't forget it when getting ready for the bikini wax.
9. Wax
What an obvious one, isn't it? Not as obvious as you might think. There are many types of wax, and each of them has different properties and different usages. If you want to use hard wax or hot wax, make sure to get waxing sticks. These will help you apply the wax to the desired areas.
Also, do not forget to get some cloth strips to remove the hot wax if that's what you decide to use.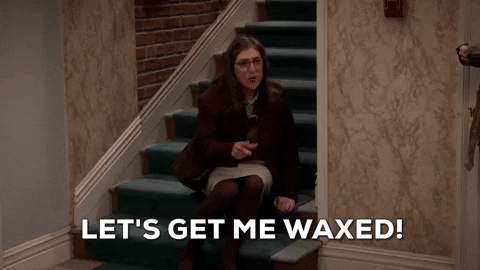 10. Tweezers
So I'm about to wax, could you please explain to me why do I need tweezers? Although bikini wax is a procedure meant to remove all targeted hair, it is not always 100% effective. Even if you are experienced and are already doing a great job, there will always be a few remaining little devils left around.
Do not panic; it will take you less than 5 minutes to get rid of them with a pair of tweezers. Make sure you follow the hair's direction when pulling the hair. Also, try to grab the hair as close as you can to its base. This way, you will be a lot more likely to get the hair from the root leading to longer-lasting hairless skin.
11. Disposable gloves
The reasons for their use are hygiene and easy cleanup. Although they are not an absolute necessity, gloves will always help you maintain a good hygiene level.
Furthermore, you might get wax on your hands during the DIY bikini wax, which might be hard to remove later. You can avoid this issue by simply using some latex gloves. If you are doing the bikini wax at home, you might need to use hard wax as things could get messy.
12. A reclining chair or massage table
Neither of these two items is required for the bikini wax. However, they will provide extra help and commodity. A massage table comes especially handy if you are waxing with a friend.
You can get the same results with or without a reclining chair, so consider it an extra tool for a commodity. You might find some more extra uses to the massage table.
13. Soothing oil
Once you are done with the bikini wax, make sure to use soothing oil. It will help you ease the pain (if any), and it will relax the skin. It will also speed the recovery procedure so you can go back to your everyday life in no time.
14. Aloe Vera
Aloe Vera is one of your best friends; this great source of vitamin B12 will help you recover and get your skin to a new level. After waxing, your skin will be exfoliated. And if you add Aloe Vera to the concoction, you will have the perfect formula for moisturized skin around your private areas.
Trust me, it feels super smooth, and it makes the waxing experience worth it.